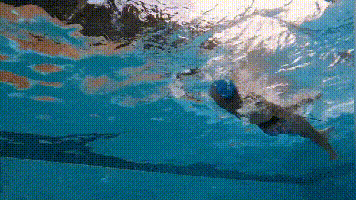 Turn your backyard pool into an endless pool.
Attach the cord and turn your small inground or above ground pool into a water treadmill with the ability to swim endless laps easily and avoid crowded public lap pools.
Save up money.
With Bungee Swim, you can save up thousands of dollars on wave machine expenses or gym subscriptions and get hours of natural swimming feeling in your pool.
Have high-intensity training even in a small pool.
The Bungee Swim belt stretches in the right amount to keep you in place while not feeling tied up. It has better resistance and adds more power and endurance to your swimming making it better for exercising than swimming normal laps. Above all, you don't have to push off from the side of the pool every few seconds or hitting the edge while doing backstroke!
Comfortably fits all sizes.
The easily adjustable, neoprene padded belt makes the Swim Bungee hardly noticeable on you while swimming and eliminates the chance of bruises and cuts no matter how hard you swim. You also never feel tied to anything because of the flexibility of the elastic bungee cord.
Portable.
With a simple design of three pieces, you can travel anywhere with Bungee Swim without worrying about space.