Discover a new level of control and flexibility of a pen.
The best selling fountain pen on Social Media 🏆
Sold for more than 25,000 pieces! 🔥
Inspired thousands of people to write for their loved ones.
What's better than 50% OFF?
Buy 2 Flex Nib Get 1 Fine Nib FREE!
👉 Add 2 Items To The Cart.
👉 You will unlock a FREE gift in your cart.
👉 Choose the color & add your FREE gift.
Limited clearance offer while supplies last.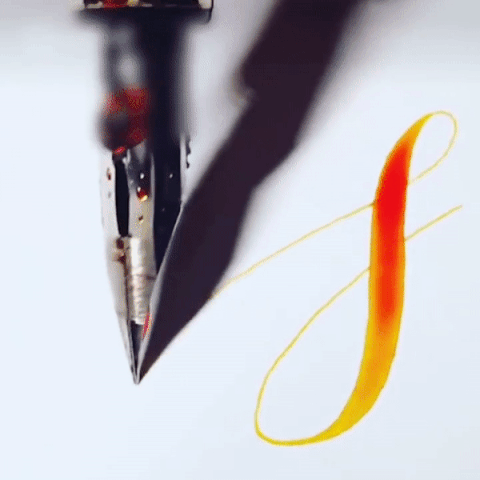 Flexible Nib
 is definitely a calligraphy game-changer, especially for 
Fountain Pen
 & 
Calligraphy Enthusiast!
 Made with 
premium materials
, this 
revolutionary pen 
will be one of the best Fountain Pens you have ever collected!
ELEGANCE IN WRITING: Effortlessly bringing fanciful flair to each letter with grand romantic strokes and beautifully tapered curves.
WIDE VARIETY OF LINES: The tip splits when pressed firmly at the right angle, allowing for more control of the ink and bringing you as close to the classic stylings of point pen and brush calligraphy as possible, without the hassle and mess that dipping a pen can cause.
Special thanks to Paul Antonio, a Calligraphy Master from London, for sending us a demo video:   
This is not your ordinary fountain pen. The flex nib is a pointed & sharp nib invented originally as a dipping pen.
For the best calligraphy experience, use bottled ink as in the image shown below. Simply dip it to the bottle when the ink on the nib is dried out - to reconnect the ink on the nib with the converter.
Sophisticated Ink Refill Converter is included to draw ink directly from an ink bottle. Ink is not included.
How To Recharge The Pen Using The Ink Converter:
Rediscover classic writing pleasure & enjoy the timeless ritual of bottle filling when you use your fountain pen.